Garlic Parmesan spaghetti is a simple pasta dish that can be served as a side or main dish. You can make this easy spaghetti recipe in about 15 minutes, using just 5 ingredients!
How do you make plain spaghetti taste better?
One way that I make spaghetti taste better is by adding fresh garlic and Parmesan cheese. Forget about basic tomato sauce or meat sauce. There are a lot of other ways to add flavor to pasta.
You can see the Garlic Parmesan Spaghetti recipe at the bottom of this post, but here are a few other ideas:
Toss cooked spaghetti in extra virgin olive oil, then stir in some freshly chopped Italian herbs.
Like it spicy? Toss in some crushed red pepper flakes for a nice, spicy bite.
In a hurry? Instead of using oil or butter, drizzle a little Italian salad dressing over spaghetti, then toss to combine.
See? Adding flavor to plain spaghetti isn't difficult; sometimes it just requires a little imagination!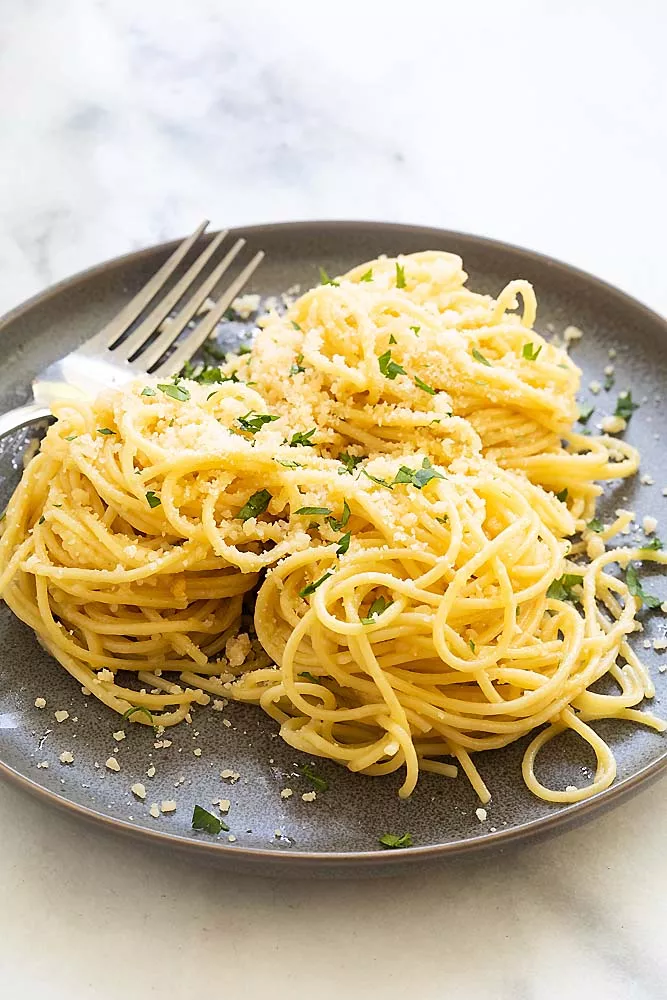 Recipe Notes for Garlic Parmesan Spaghetti
This really is an easy spaghetti recipe, so there isn't much to explain. However, some people struggle with cooking spaghetti to perfection and I think these tips will help.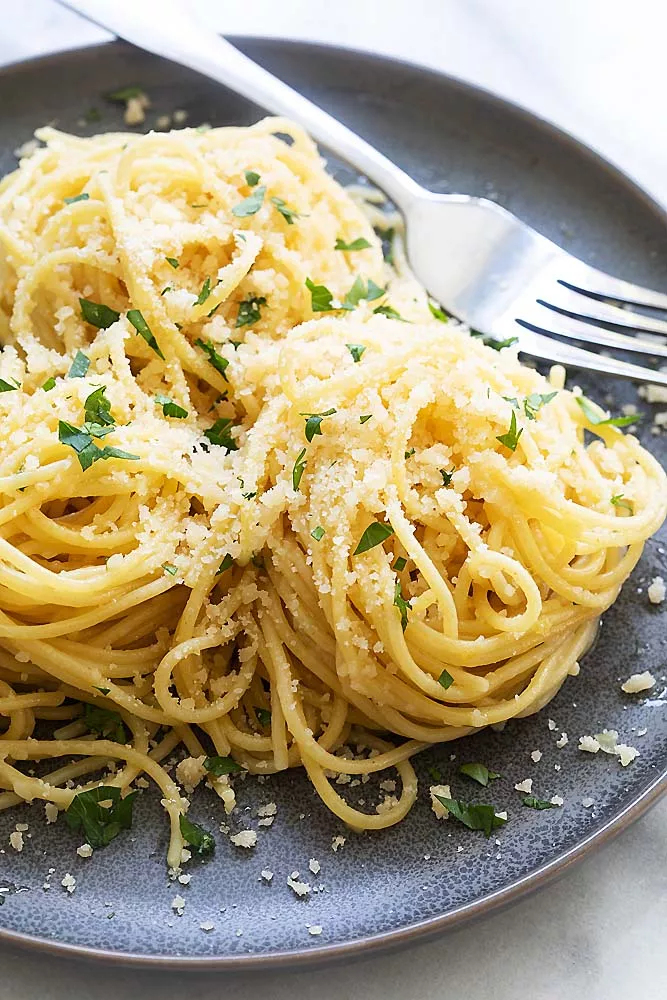 How do you keep pasta from sticking?
To prevent cooked spaghetti pasta from sticking together, keep these simple, but important tips in mind:
Wait until the water is at a full, rapid boil before adding the spaghetti.
Never ever add oil to the pasta cooking water! While it's true that oil will prevent pasta from sticking together, there's a downside. The oil will also prevent any sauce from sticking to your spaghetti.
Stir the pasta as it cooks, aim for stirring every 2-3 minutes.
After the pasta is cooked, drain the water and rinse the with water. But ONLY rinse pasta if you won't be eating it right away.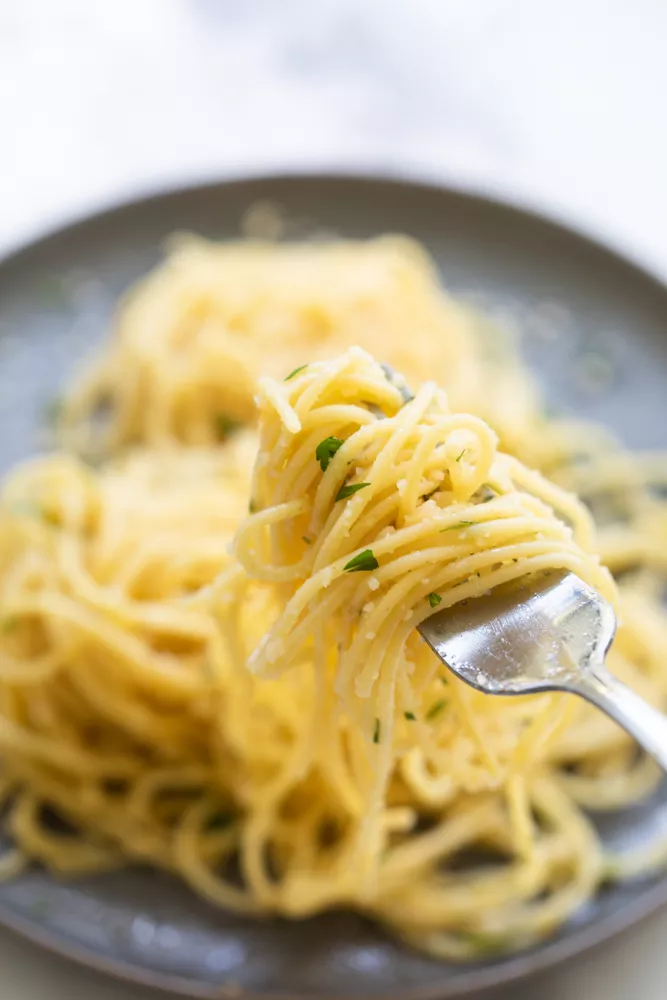 Other Easy Pasta Recipes
Yield: 2
Garlic Parmesan Spaghetti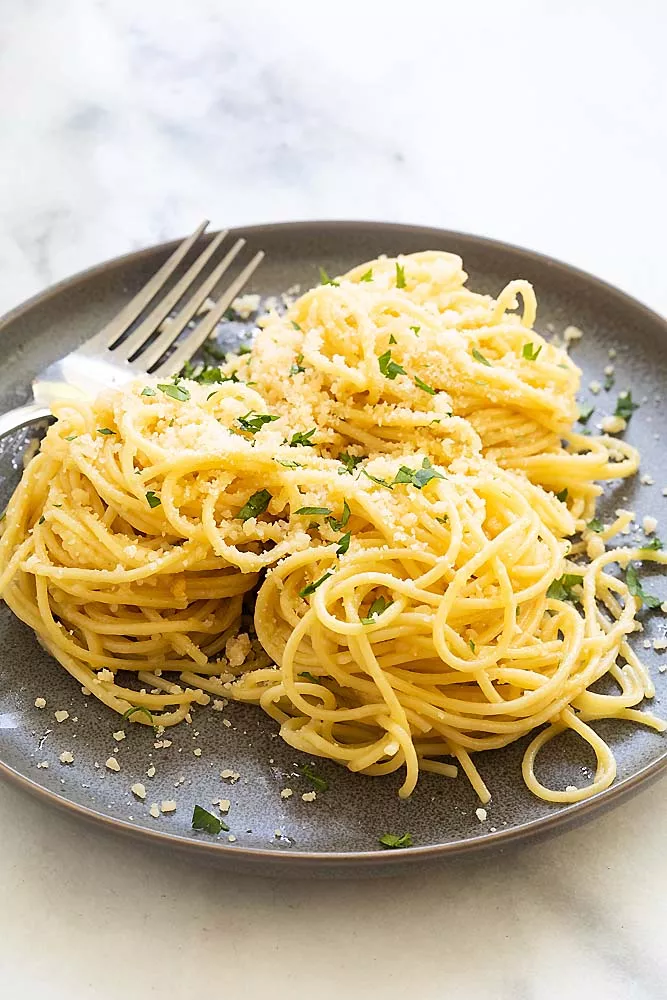 Garlic Parmesan spaghetti is a simple pasta dish with bold flavor! You can make this easy spaghetti recipei in about 15 minutes, using just 5 ingredients!
Ingredients
8 oz spaghetti
2 tablespoons olive oil
3 cloves garlic, minced
1/2 teaspoon salt
1/2 teaspoon chicken bouillon powder
2 oz grated Parmesan cheese
1 tablespoon chopped Italian parsley
Instructions
Heat up a pot of water and cook the spaghetti to al dente, according to the package instructions.
Drain and set aside.
Heat up a skillet with the olive oil and saute the garlic until aromatic but not browned.
Add the spaghetti to the skillet, follow by salt and chicken bouillon powder. Stir to blend well.
Turn off the heat and add the Parmesan cheese. Mix well with the spaghetti.
Garnish with the parsley and serve immediately.
Nutrition Information
Yield
2
Serving Size
1
Amount Per Serving
Calories

418
Total Fat

22g
Saturated Fat

6g
Trans Fat

0g
Unsaturated Fat

14g
Cholesterol

24mg
Sodium

1167mg
Carbohydrates

40g
Fiber

2g
Sugar

1g
Protein

14g
Reader Interactions