Shrimp Scampi – easy and healthy recipe with buttery jumbo shrimp, white wine and lemon sauce. This recipe is served with pasta of your choice for weeknight dinner with family and takes 20 minutes to make.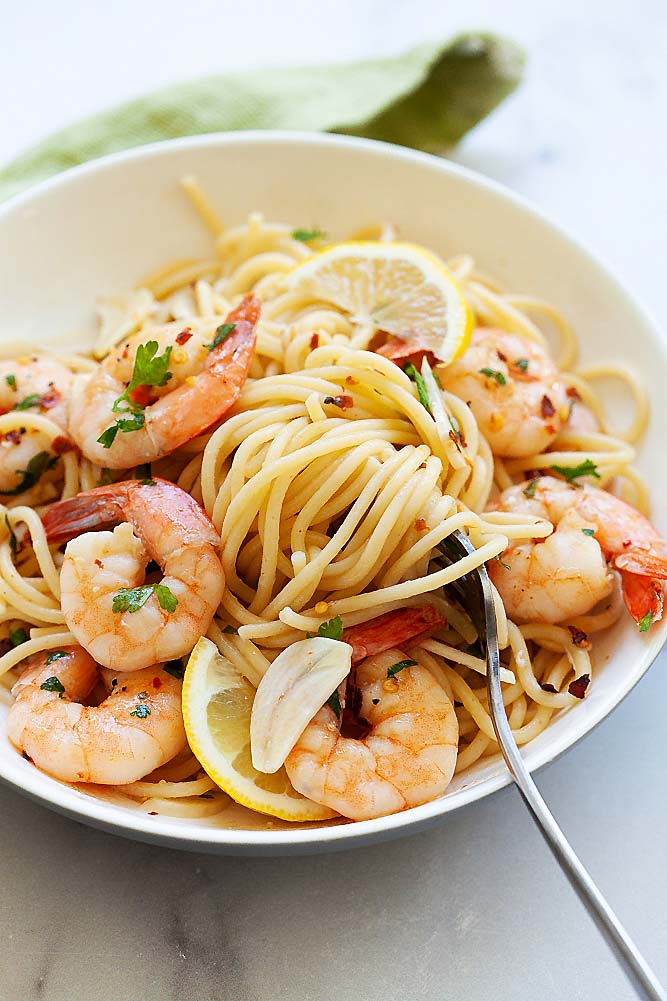 Shrimp Scampi Recipe
Shrimp scampi is probably the most loved shrimp recipes. Imagine juicy, succulent and mouthwatering shrimp made with olive oil, butter, garlic, white wine, parsley and lemon juice.
The very thought of shrimp sets my mouthwatering.
Today, I am sharing a healthy and easy shrimp scampi recipe with you; it's fast, quick and perfect for busy weeknight dinner and it doesn't cost you a lot.
It's probably cheaper than eating out at Olive Garden or Cheesecake Factory!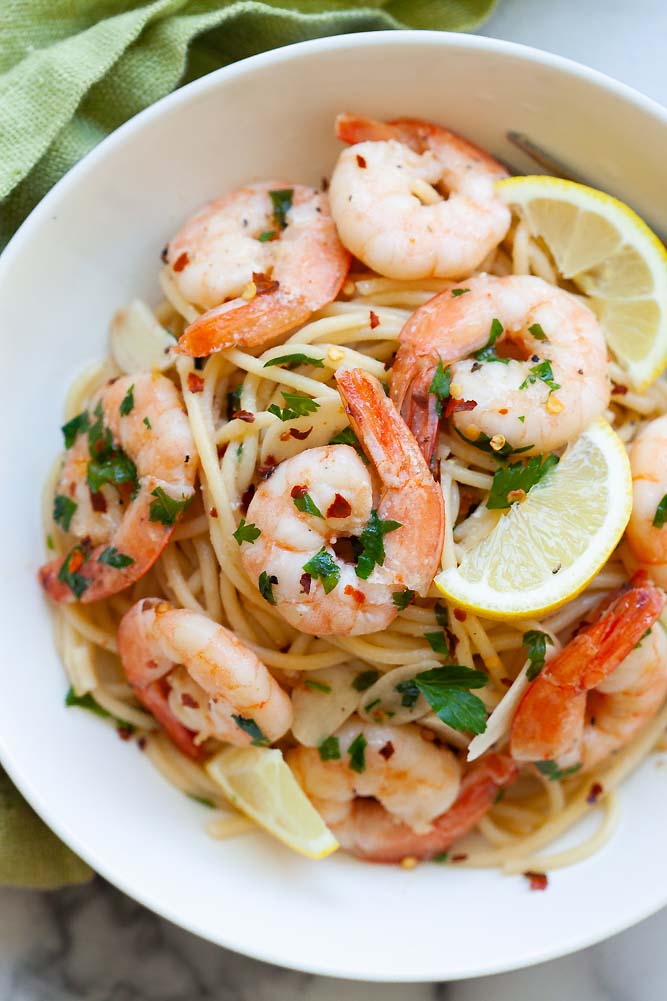 Shrimp Scampi Pasta
In the United States, this recipe is often made with pasta such as linguine, spaghetti or angel hair pasta.
The reason is very simple: shrimp plus pasta equal to a wholesome and complete dinner!
All you have to do is combining them together in the recipe and dinner is done.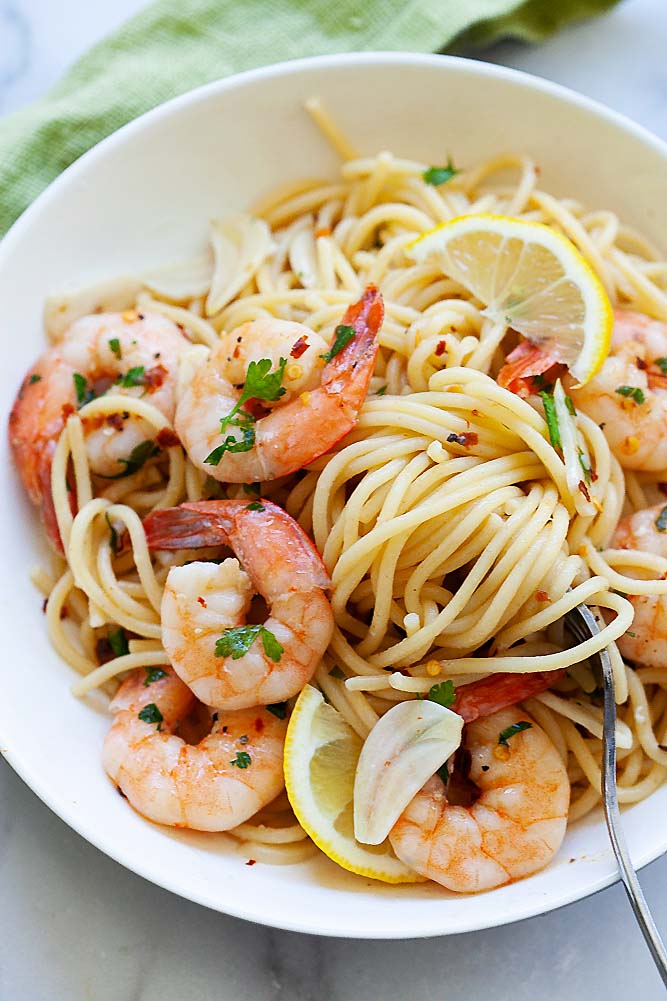 How to Make Shrimp Scampi?
Shrimp scampi is so easy to make and can be made in jiffy on the stove top, in a skillet.
The cooking process starts with seasoning raw shrimp. Next, saute garlic with olive oil and butter, then cook the shrimp.
The final step is making the shrimp scampi sauce, which is made of the following ingredients:
Shrimp Scampi Sauce
White wine
Lemon juice
Salt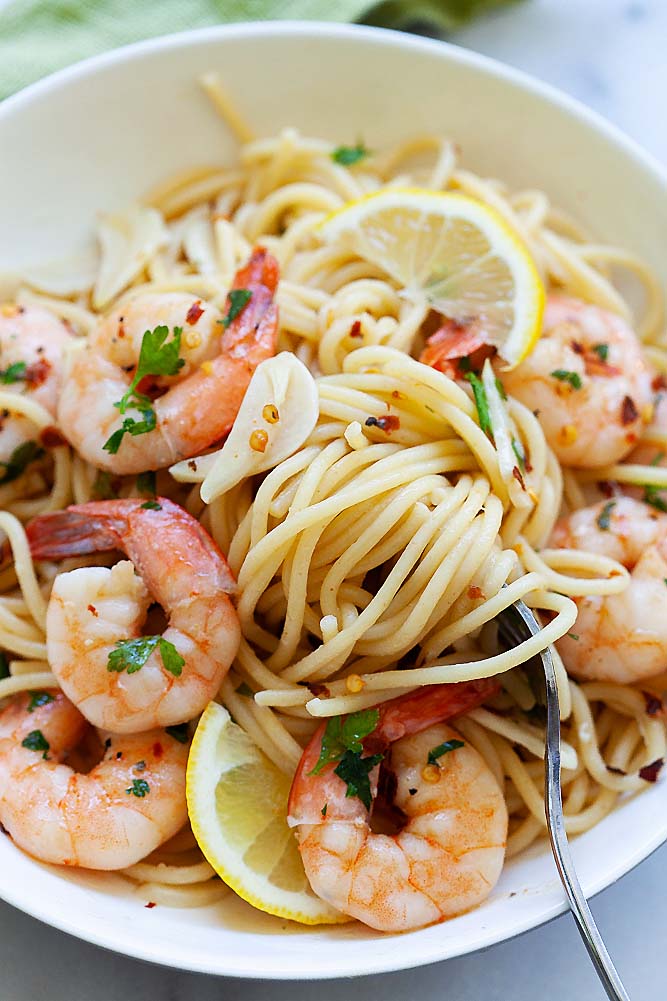 Can You Make Shrimp Scampi Without Wine
Not everyone can consume wine and you can substitute wine with chicken broth or vegetable stock. Reduce the sauce to a thicker consistency.
What Side Dishes to Serve?
Shrimp goes well with a variety of side dishes for example: roasted tomatoes, sauteed asparagus or green beans.
Other Dinner Recipes:
Yield: 4 People
Shrimp Scampi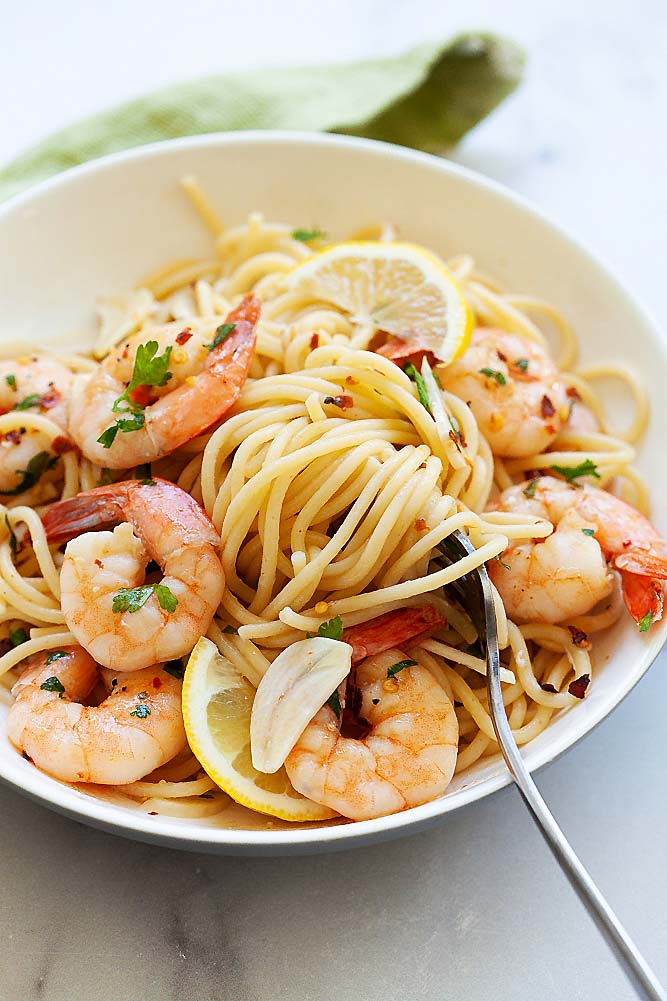 Shrimp Scampi - easy healthy recipe with shrimp, white wine and lemon sauce. Best served with pasta of your choice for family weeknight dinner.
Ingredients
1 lb. shrimp, shelled and deveined
salt
ground black pepper
3 dashes cayenne pepper
4 quarts (16 cups) water
1 teaspoon salt
8 oz spaghetti
3 tablespoons olive oil
3 tablespoons unsalted butter, softened
4 cloves garlic, peeled and sliced into thin pieces
1 heaping teaspoon crushed red pepper
1/2 cup dry white wine
1/2 cup pasta water
2 tablespoons lemon juice
salt, to taste
2 tablespoons chopped Italian parsley
Instructions
Season the shrimp with salt, pepper and cayenne pepper. Set aside.
Heat up 4 quarts of water in pot and bring the water to boil. Add the salt and cook the spaghetti until al dente. Drain and set side. Save 1/2 cup of pasta water.
Heat up a skillet with olive oil and butter. Saute and stir the garlic slices and red chili flakes a few times before adding the shrimp. When the shrimp turn opaque, add the white wine, pasta water lemon juice and salt to taste. Cook the shrimp and reduce the sauce a little.
Add the spaghetti into the skillet, stir to combine well with the sauce. Add the chopped parley, mix well with the spaghetti. Serve immediately.
Reader Interactions